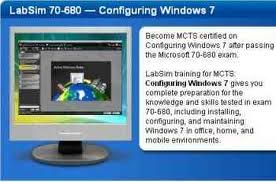 TestOut – LabSim 70-680- Configuring Windows 7
MCTS Training | 2.07 gb
testout.com/products/mcitp/70-680.htm
Become MCTS certified on Configuring Windows 7 after passing the Microsoft 70-680 exam.
LabSim training for MCTS: Configuring Windows 7 gives you complete preparation for the knowledge and skills tested in exam 70-680, including installing, configuring, and maintaining Windows 7 in office, home, and mobile environments.
LabSim 70-680 Course Includes:
Training Videos     74
Lab Simulation Exercises     35
Demonstrations     68
Written Lessons     98
Section Quizzes     52
Exam Questions     404
Practice Certification Exam     Included
Estimated Time to Complete     ~38 hrs
With powerful computer-based training and simulation tools, LabSim 70-680 provides a unique training program to prepare you to become MCTS: Configuring Windows 7 certified. Gain hands-on experience with fundamental Windows 7 tasks before taking your certification exam. LabSim training courses are guaranteed to help you pass your 70-680 exam. LabSim Windows 7 training will teach you how to:
* Install, Upgrade, and Migrate to Windows 7
* Deploy Windows 7 by capturing a system image, preparing it, deploying it, and configuring a VHD
* Configure Hardware and Applications (IPv4 and IPv6 network settings, firewall, and remote management)
* Configure Access to Resources (setting permissions for files and folders, configuring user account control and Secure Desktop)
* Configure Mobile Computing (BitLocker, DirectAccess, VPN connections and authentication)
* Monitor and Maintain Systems that Run Windows 7 (updates, disk volumes, file system fragmentation, RAID, event logs, performance settings)
* Configure Backup and Recovery Options (system backup, system restore settings, restoring damaged/deleted files)
Video Training
74 instructor-led training videos and 68 demonstrations fully prepare you for your certification exam. LabSim will capture your attention with slides, graphics, and white board images that explain complex concepts in a personable and easy to understand way.
Hands-on Lab Simulations
35 lab exercises let you work in a simulated environment where you can practice the skills required to become certified. These simulations allow you to demonstrate your understanding while building real-world skills.
Written Lessons
98 study guides and fact sheets help you gain further understanding of the concepts covered in all of the training videos, demonstrations, and lab exercises.
Certification Practice Exams
On top of all that, 404 exam questions in section quizzes and practice exams provide you with a realistic experience of what the actual certification exam will be like.
Download Links: 5 file
http://filepost.com/folder/4d3b29aa/
[There is hidden content which is only available for our VIP member]. Become VIP Member NOW
TestOut – LabSim 70-680: Configuring Windows 7 is available on Our Private Server, a new fast direct download service with over 2,210,000 Files. Download anything with more then 5000+ Kb/s downloading speed.Signup process takes just 10 sec to go.Signup today and enjoy the speed !